Covercy GP is a powerful platform that enables GPs to manage the day to day activities related to their LPs. This guide will help you understand how to upload documents to Covercy GP, share them with your LPs (personally or with the entire syndicate)
Step 1: Upload the desired documents to Covercy GP
Documents are asset/fund related. Meaning that each asset/fund has its own, separate documents storage space. To upload documents:
Click on the relevant asset/fund you wish to upload documents for.

Click on the 'Documents' tab on the main dashboard page

Click on 'File Upload'

Choose the files you wish to upload and click 'Upload Files'. You can upload all the documents in a bulk.

Important notice: Once uploaded you will notice a 'processing' remark next to the files. You must wait for completion before being able to share the documents. It may take some time, according to the size and number of files.
Step 2: Share the documents with LPs
The covercy platform enables you to share documents with your investors on a personal or collective basis. For example, a personal K1 can be shared solely with the relevant investor.
The shared documents will appear on the LPs investor portal. Each investor will have access only to the documents you have decided to share with him.
1. Sharing a document with a specific investor
Mark the document you wish to share by ticking the box on the left.

Click on 'Actions' and then on 'Share'

Click on 'Select specific investors'.

Select the investor you wish to share the document.

At this point you have two options:

Share and notify by email (Green button) - The investor will receive a notice email updating him the document has been shared, and is accessible on his LP portal.

Share without email - The document will be shared, however a notice email will not be sent.

Choose your preferred option to share the document.
2. Sharing a document with the entire syndicate
a. Simply choose the 'All investors' option seen on the screenshot above. The document will be shared with the entire investor syndicate of the specific deal. Meaning that if you have investors connected to other deals, they will not have access to this shared document.
3. Removing investor's permission
a. In case you wish to revoke the permission of a specific investor from having access to the document select 'manage permissions'.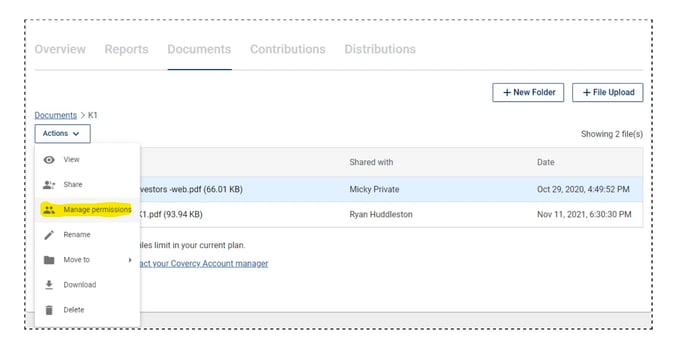 Folders
The documents module offers the GP to create folders and store documents in them for better control. You can also create a folder within a folder. For example, a common use case is creating a folder named K1 and then subfolders breaking down the years.
To create a folder click on '+ New Folder' as seen in the screenshot above.